And the hits just keep on coming! Restaurants have faced extremely challenging and testing times this year. Many restaurant owners invested time, money and resources into re-opening efforts in June- only to have indoor dining shut down again weeks later. Many restaurants have now invested time, money and resources in making outdoor dining options more comfortable for guests. Now, restaurants and food trucks are facing a heat wave in Central California and bad air quality related to wildfires that have ignited throughout our state. Despite all of these challenges, we are seeing the tenacity and furor of the entrepreneurial spirit of local restaurateurs and local business owners. They are doubling down and reinvesting in creating spaces for their loyal patrons to connect during this extremely difficult time. Air swamp coolers, tents decorated with twinkly lights, fans, misters and umbrellas continue to show how resilient restaurant owners are.
With Governor Newsom's announcement this past week(click here if you didn't see it), outdoor dining is the reality for restaurateurs this fall. Our California Restaurant Association Fresno Area President, Chuck from Vino Grille in Fresno, said in a social media post on August 29: "Based on Newsom's 'New' Tiered plan, we would not be able to open for 25% inside dining until 10/30/2020. That is IF we drop our new case count below 7 people per 100,000 based on population. So basically 70 new positives a day. As it sits, Fresno is over 300 per day. With this tiered plan the realistic time frame for opening is after the first of the year. That means we lose all the holiday business and will probably only have take out and delivery only on poor weather days. Our business will finish the year down over $1,000,000 from the year prior. Jen (his wife, who works back of the house) has not taken a pay check since early March and I have only paid myself minimally on two occasions…As it is, the prediction is that over 30% of restaurants in California will close by the end of the year."
Are you looking for ideas related to outdoor dining? Here are some examples we've seen on social media lately: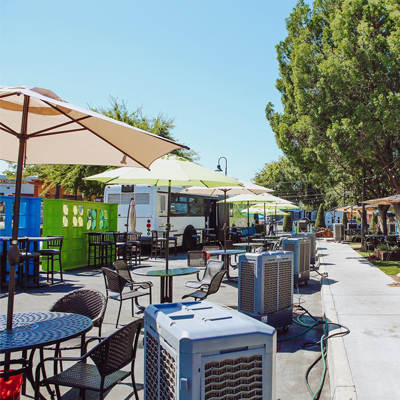 Colton's Social Therapy, Fresno
Colton's Social House has changed their name to Social Therapy recognizing our need to connect after months of isolation. They have invested in an outdoor dining experience like no other. Along with the typical patio table and umbrella set up, they have brought in swamp coolers, misters, string lights and a bus (yes, a bus). Check out this video for more info. How are you making your outdoor dining experience special for your diners?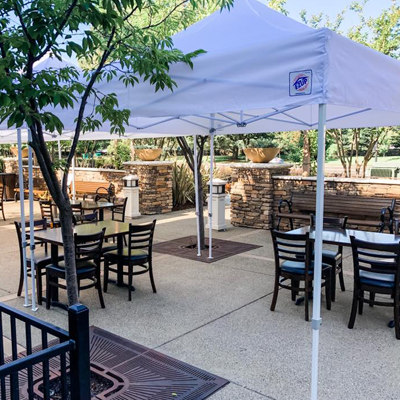 Mimosa House, Sacramento
The Mimosa House in the North Valley has opened their patios for outdoor dining as well. They are offering a QR code to access their menu on your smart phone. They are running specials weekly including Mimosa Mondays (who is in?) and ALL NIGHT HAPPY HOUR on Wednesdays. What kind of specials are you offering at your local restaurant to entice diners?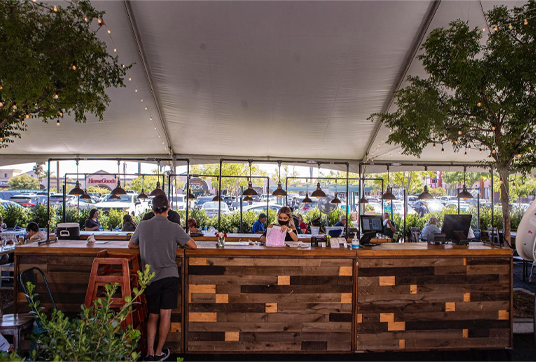 Pismo's Coastal Grill, Fresno
After arguing back and forth with Fresno County public health officials whether his restaurant was a patio with its wall to ceiling garage doors, Dave Fansler has taken his popular seafood restaurant to the parking lot. His garden inspired outdoor dining experience features greenery, trees, and string lights under the massive tent. How are you turning these restrictions into a positive customer experience?
At JD Food, we are with you, local restaurateurs! Our team has been working with business owners, chefs and food buyers from the beginning of this pandemic during product shortages, pricing fluctuations, making food deliveries safely and working through accounting issues to ensure your food delivery. We build partnerships with food operators, so you can stay focused on making your business successful. Are you looking for a supplier to deliver to your food operation? Visit our become a customer page on our website to get started!
If you are continuing to look for personal protective equipment for your staff throughout COVID-19 in California, we still have in-stock FREE PPE that was offered by the State of California for restaurants and food operations. Check out our blog on how to get FREE PPE through JD Food!