When it comes to technology for your restaurant, the number of apps, resources, and gadgets are mind-boggling. With an ever changing business landscape it can be difficult to keep current but as your trusted food service partner, we are committed to providing you with any resource you may need to help run your business.
This is our first blog on tech news and it's a big one – The Best Food Delivery Services For Restaurants. 
With COVID-19 restrictions continuing longer than any of us could have predicted, curbside pickup and delivery services have become a lifeline for many restaurants. Customers love delivery services because they're convenient, fast, and food can be ordered from nearly any device. If you're not already partnered with a service (or are looking to explore your options) there are so many choices. We've scoured the internet to compile the following information to help you with your search:
DoorDash
DoorDash is the most popular food delivery app according to Fortune Magazine with a market share of 27.6%. It is available nationwide and offers low fees. The app is simple to use for both restaurants and customers. 
With the largest share of the market, you are more likely to connect with more customers on DoorDash than any other platform. It offers the lowest commission fees for restaurants across the board and offers low service fees for customers. As a bonus, they also offer a monthly subscription for customers with waived fees, meaning customers will be likely to exclusively use DoorDash.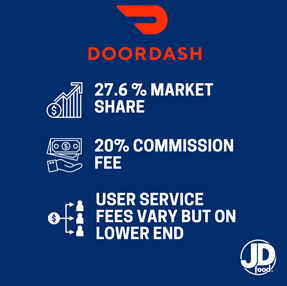 GrubHub
GrubHub is the original online food delivery service and used to hold the largest share of the market. They also own Seamless which is available throughout the US as well. GrubHub bought out other services like Eat24, Foodler, and OrderUp. 
Their market share is just behind DoorDash at 26.9% so they are still very popular. They are the most experienced food delivery service. 
GrubHub works with a variety of restaurants of all sizes and offers a range of commission fees from 15% to 30%. The fee your restaurant will be charged depends on your cuisine, volume, location, and other factors. The same is true for service fees that customers are charged. 
One area that GrubHub stands out in is that they will work with any of your existing delivery drivers, so you can keep them on staff. They offer a POS integration as well as the ability to integrate an ordering link on your website.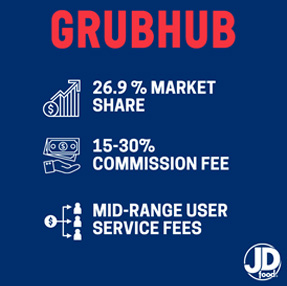 Postmates
Postmates owns a smaller market share of delivery services at about 12%. This will result in fewer customers using Postmates to find your restaurant. 
Commissions charged by Postmates are on the higher end at 30% and users are charged a wide range of service fees depending on location, service area, and time of day. 
Postmates does offer discounts on service fees to customers often and allows users to "share" a delivery driver with other customers ordering from the same restaurant for a reduced fee.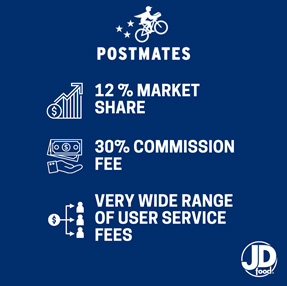 UberEats
UberEats is an offshoot of the popular ridesharing app, Uber. They own about 25% of the food delivery market share, thanks in large part to their well-known brand and access to drivers. Their delivery time is often shorter than other services because of their fleet of drivers.
One major drawback to UberEats is that the drivers are not trained as food delivery partners but rather are rideshare partners who also have the option to deliver food. This can create mishaps with the food. 
UberEats charges a commission fee ranging from 30-40%, while service fees for customers are also on the higher end.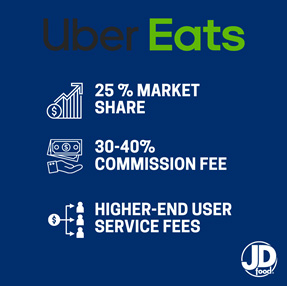 Final Thoughts
There are a wide range of factors to consider including your customer demographics, profit margins, and your service area. There is even the consideration of using in-house staff members to provide delivery services which comes with it's own set of costs including wages, insurance premiums, and mileage compensation. 
We hope that our guide has helped you to narrow down your choices when it comes to delivery options. They are all a great way to connect with existing and potential customers.