Restaurants are beginning to open their dining rooms at the state-mandated limited capacities and although this is a step to returning to fully-operational, it brings up a new problem – how to organize your dining room to accommodate people quickly and efficiently. We're starting to see restaurants that previously had no need for reservations switching to reservations only. 
Patrons are looking for a seamless and easy-to-use system to book reservations. So how can your restaurant provide the best experience? By using a top online reservation tool that will not only make it easier for your customers but also for your staff. 
When putting this list together we looked at costs, features, and ease-of-use.
Here are three of the top platforms:
Resy 
It offers a waitlist and reservations system that is easily accessible on any web-enabled device including smartphones. There is also an integration for your POS system and table management features that allow you to create a floor plan that mirrors your restaurant including bar seating, patio, and indoor dining. 
On the customer side, the system texts customers to remind them of their reservation, asks them to confirm, or allows them to cancel, all through text. Customers can even make special requests, share allergen information, or any other notes that your team may need to make their dining experience the best it can be. 
Resy can even integrate with Facebook, allowing your customers to book right from there! 
Pricing for Resy is as follows: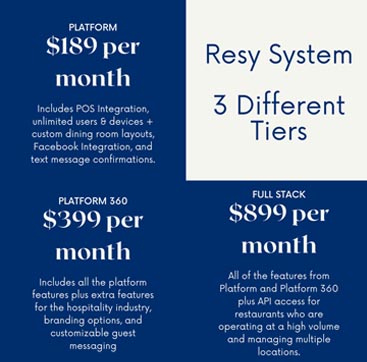 Resy also offers bookings for special events with prepaid tickets. They charge a 3% fee for Platform users and 2% for Platform 360 or Full Stack users. 
OpenTable 
One of the most popular reservation platforms is OpenTable. It is a full-feature system that offers custom dining charts, an automated reservation reminder system, calculates table turn times based on past reservations, and more. 
On the customer-end it allows them to see real-time availability and book a table through your website or the OpenTable app. Plus, there's already 57 million diners currently on the app so it will expose your restaurant to more diners than any other system. 
Pricing is as follows: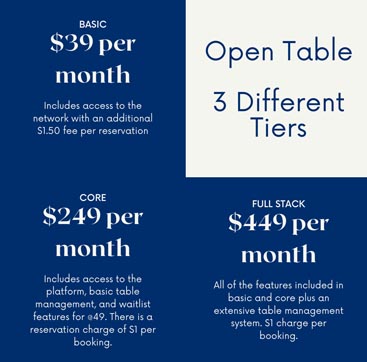 Yelp Reservations
The go-to app for food reviews offers a reservation system for restaurants. It has all the features you need to get more diners in your doors and create an easy reservation process. You can also use the system to assign waiters to different sections of the restaurant. One big advantage of using Yelp Reservations over others is that people can book right from your restaurant's Yelp page. They also offer a widget you can embed on your website. The management side of the app allows you to track wait times, organize tables, and see your service activity. 
Their pricing is all-inclusive: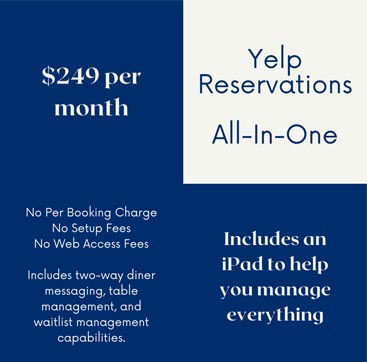 The Takeaway:
There are plenty of reservation platforms available to restaurants and you might consider utilizing one if you aren't already, especially with the holidays coming up and limited indoor capacity likely to continue. 
If you're not quite ready to adopt a platform just yet, the traditional pencil, paper, and a phone are still effective. 
No matter which system you have in place, you'll want to make sure to communicate with your current and potential diners often to let them know how you are providing the best service possible!