"On November 6, 2018, California voters approved Proposition 12, the Farm Animal Confinement Initiative. This law requires that covered animals be housed in confinement systems that comply with specific standards for freedom of movement, cage-free design, and minimum floor space and identifies covered animals to include veal calves, breeding pigs, and egg-laying hens" (source: https://www.cdfa.ca.gov/ahfss/Prop12.html ).
Some of the questions we've seen are:
What is this new pork law in California?
Are they banning pork in California?
Is California going to stop selling bacon?
What is Prop 12 concerning chickens?
Are all eggs cage-free in California?
Pork (and Bacon) is not banned in California. All shelled and liquid eggs are now cage-free in California.
This proposition established new requirements for farmers to provide more space for egg-laying hens, breeding pigs and calves raised for veal in the state of California. Businesses in California will need to find eggs, certain uncooked pork items, and veal that meets these requirements. What makes this proposition unique is in the State of California has not finalized the requirements of the law and thus there is significant confusion as to what compliance looks like and how compliance will be enforced. These new requirements on top of the COVID-19 pandemic have created significant uncertainty in these markets, which has resulted in supply disruptions. Looking ahead at inventory, check out our forecast below: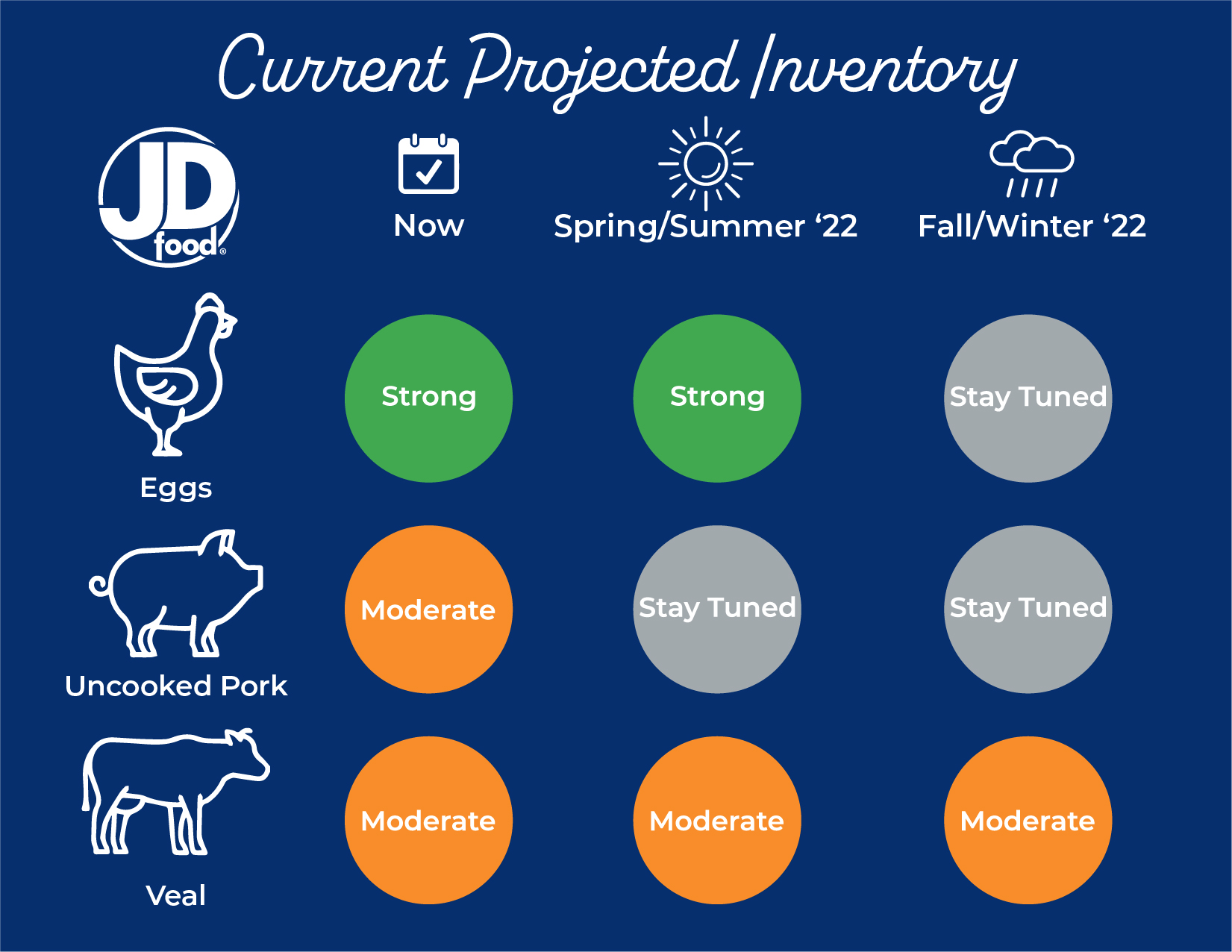 As your preferred Central California local food distribution company, our purchasing department is working around the clock to ensure you have options to keep your business supplied. With that being said, communication between you and your JD Food Salesperson is vital. Also, food buyers being flexible regarding brands will ensure you continue to stay in stock.
*UPDATE* February 10, 2022
Enforcement of Proposition 12 has been delayed until further regulations are released. The North American Meat Insititute (NAMI) applauded the judge's decision to delay Prop 12 enforcement.
Judge Arguelles' decision recognizes the complexity of the pork supply chain and the burdensome and costly provisions of Prop 12, to enforce the law without final regulations leaves the industry unsure of how to comply or what significant changes must be made to provide pork to this critical market. -Julie Anna Potts, president and chief executive officer of NAMI. (source link)
Continue to reach out to your JD Food Salesperson if you have any questions on Proposition 12 and enforcement. We will continue to update this blog post with information as it becomes available. As always, email us if you have any questions hello@jdfood.com